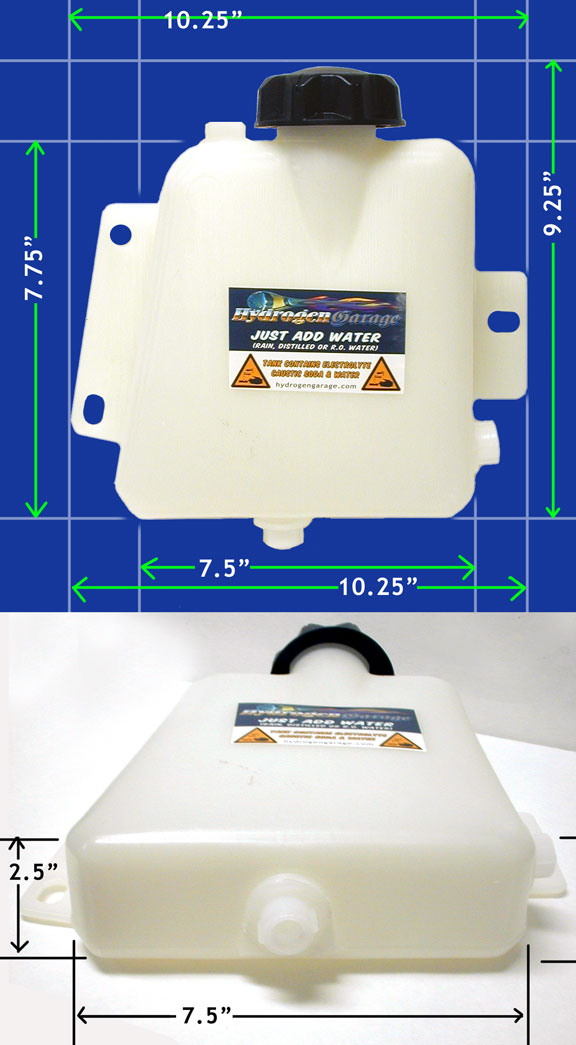 HHO Installation Plan

Designing your water tank, starts your installation plan. Where do I put the HHO cell? tank and 5" hydroxy dryer? The best is too install the cell underneath the front bumper or hanging on the frame behind the bumper and on the side where your battery is and your air filter box. Your goal is the shortest route to the air filter box and the shortest wires to the battery. Most H2O cells do not come with a mount bracket, we like to use the ammo boxes Easy to install and hang onto the outside of the ammo box. Next we go up to the Water Tank and above that a horizontal mounted 5" Hydroxy Dryer. Hydroxy Dryer Install instructions. Install Videos : CVHHO 1976 Ford 350 V8 Install Hall of Fame Install Scott's CVHHO Youtube Videos are here.

Electrolyte/Water Re-circulating Bubbler Tank, Three sizes to choose from : 1.5 quart or 2 quart or 3 quart tank. Heavy duty clear/white lye proof, polypropylene plastic.
Two choices of the CAP 1) EPA approved, 3 click seal CAP ($3.00 more) or 2) the Standard CAP, with the you feel seal.
You can choose below the hose fitting locations on the tank. Each 1/4" NPT threaded fitting allows either a straight or elbow fitting, in any direction you wish.
Choice of 1/4" or 3/8" hose fitting and a choice of either a straight nipple or an elbow fitting, either 1/4" or 3/8" hose fitting. (facing tank decal)
GAS IN side fitting comes with a 1/4" or 3/8" elbow fitting. 1.5" from the bottom on the side of the tank, Right or Left side ( facing decal) or GAS IN on the top of tank. (right or left)
GAS OUT TO fitting comes with a 1/4" or 3/8" elbow fitting. 1.5" from the bottom on the side of the tank, choose Right or Left side (facing decal)
Bottom tank fitting in the center bottom of the tank. Choose either 1/4" straight or elbow or 3/8" straight fitting or elbow fitting.
Also sold with 9' of clear flexible poly hose and 6 hose nylon hose clamps.
Comes with lye proof teflon tape. and with 3 fittings, that you will choose on the ORDER PAGE.
1.5 Quart Tank size = 3.5" x 5.5", 6" tall, 2 mount holes
2 Quart Tank size = 4" x 6.5", 5" tall, 4 mount holes
3 Quart Tank size = 4" x 6.5", 7.25" tall, 6 mount holes